Powering Events
Organize your events hassle-free.
Contact Us for More Info
ConfEngine is the ultimate event management platform. It is a one-stop solution for event organisers, program committee, speakers, attendees and sponsors.
With 50K active users, we have powered 200+ public and 15 private events globally. Via our ticketing platform, we've done transactions worth $3M USD.
Core Platform Features
Program Committee
Accept nominations for the program committee or directly add members. Allow them to interact with the speakers before they can review and rate the proposals. Program Chairs can do the final program selection based on committee votes.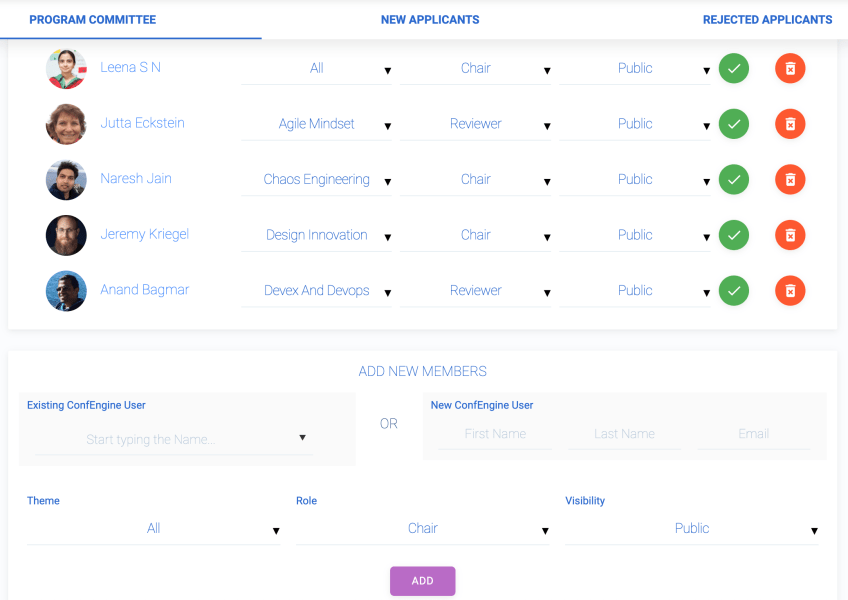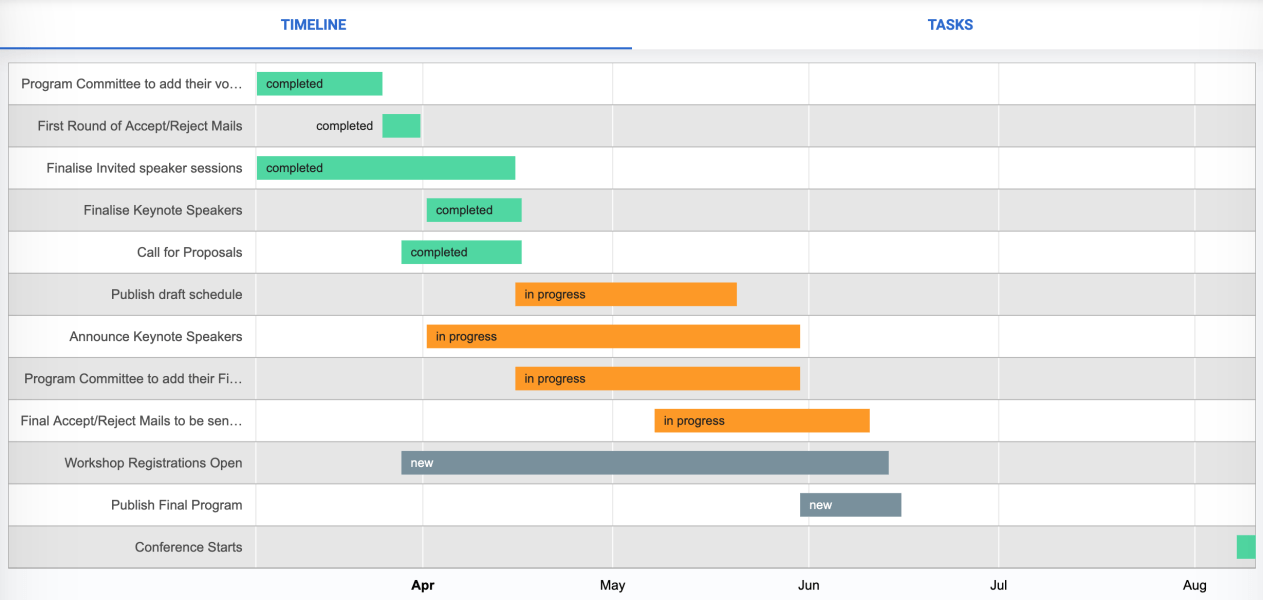 Event Timeline
A simple event task manager for the program committee to plan their tasks, highlight important milestones and manage the overall event schedule.
Call for Proposals
Setup an open or a closed submission system, choose what information you want speakers to submit with their session proposal and instantly start collecting proposals from global speaker base to shape up your event.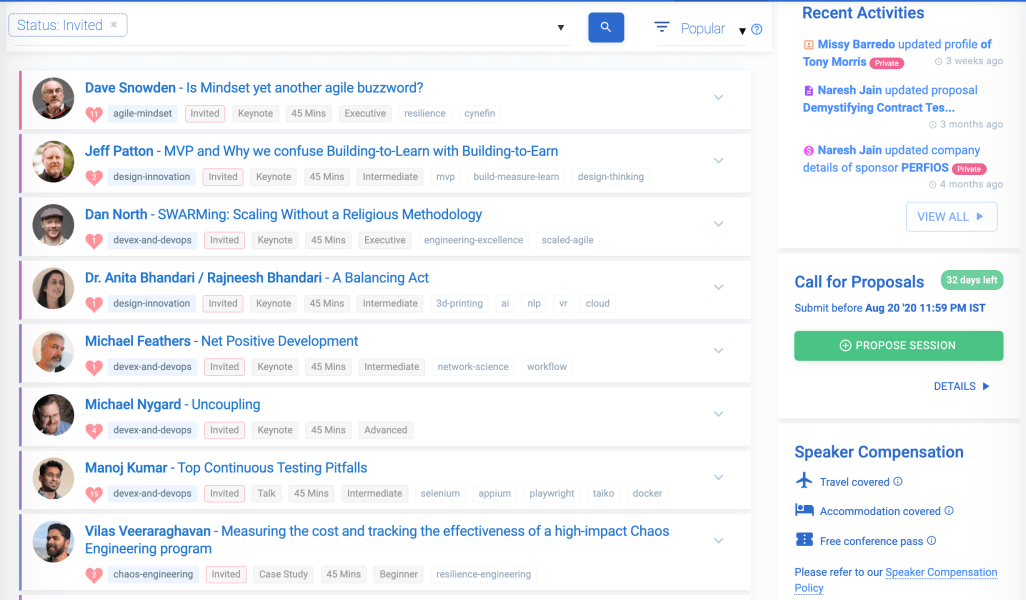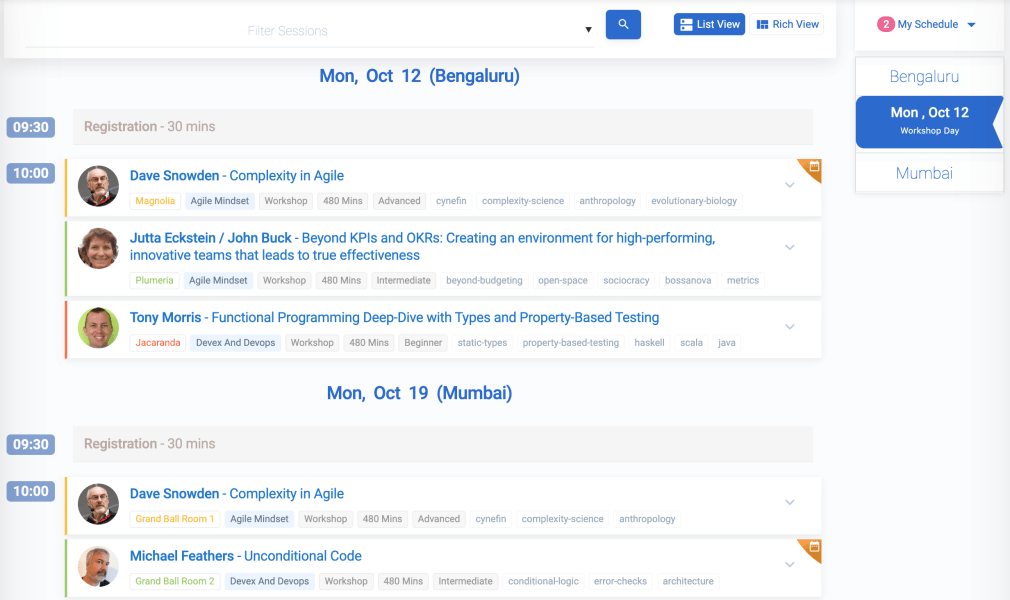 Multi-city Event
Have an event that runs across multiple cities with a slightly different schedule? Don't worry, our multi-city event module lets you manage all these complications without any duplication of effort.
Event Schedule
Feed-in your sessions, speaker info, number of rooms and other constraints... get ready-to-go event schedule with filtering, exporting and bookmarking capabilities. Allow attendees to select sessions and create personal, sharable schedules.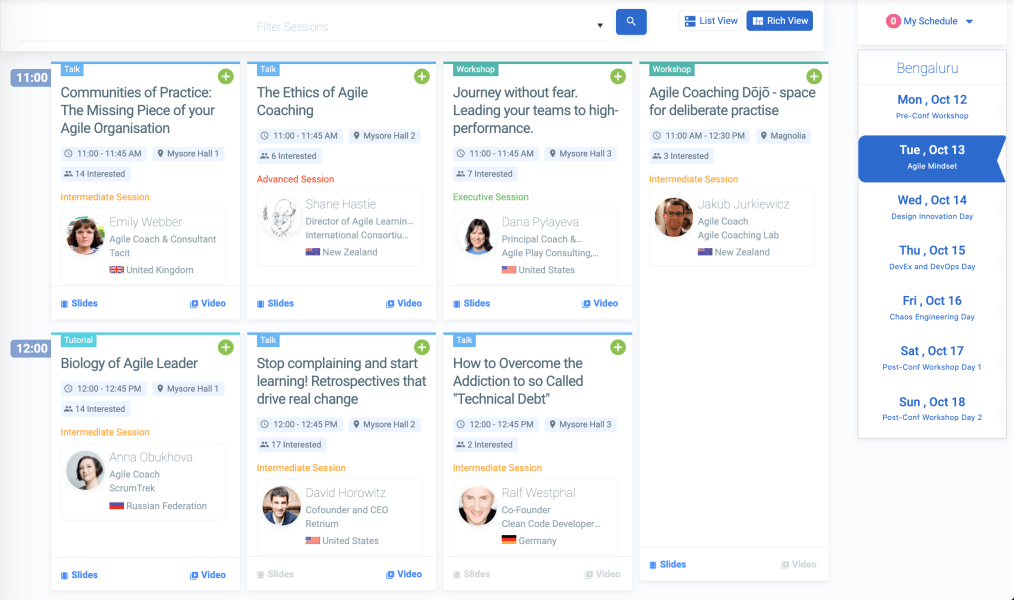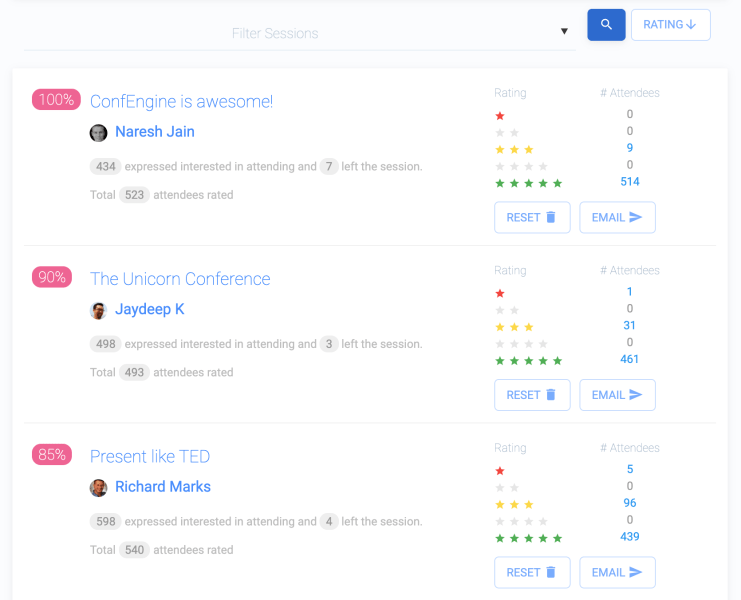 Session Rating
As soon as a session is over, prompt the attendees to rate the sessions they attended. Consolidate all the session rating in one place and email the session rating and personalised feedback to the respective speakers.
Position Papers
Do you have open space sessions as part of your event? Easily create a custom set of questions and have interested people fill in the position papers. Shortlist and select participants for your open space.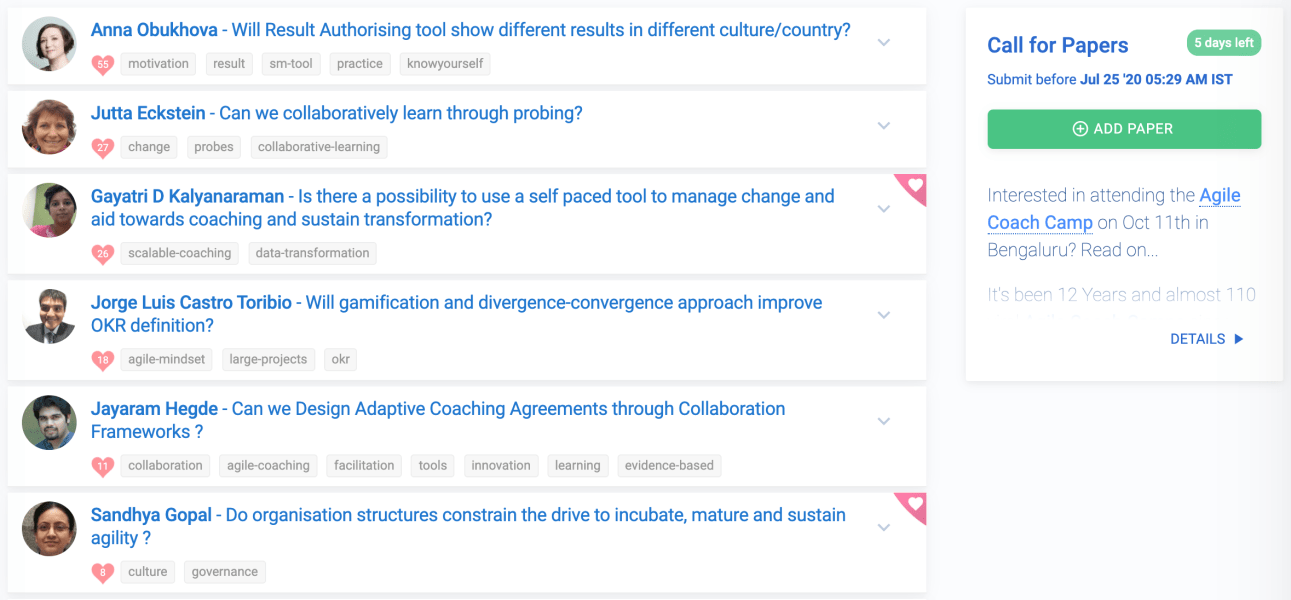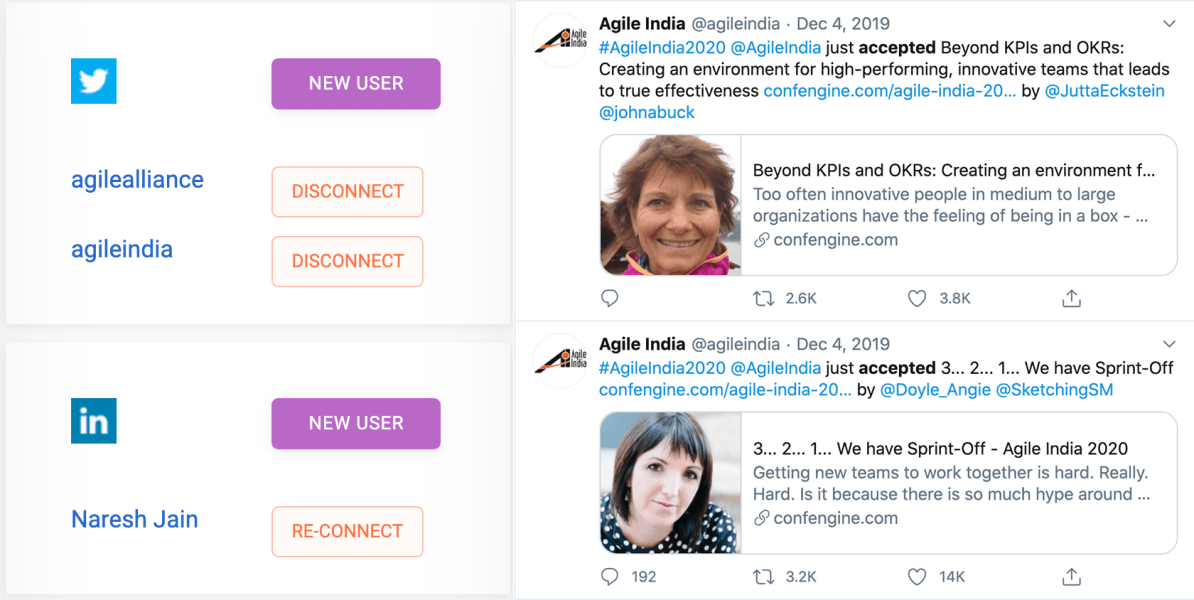 Social Media Integration
Authorise your social media accounts and allow ConfEngine to broadcast important events or notifications via your social media channels.
Email Templates
Completely customise the subject and the body of the email sent on your behalf. You can even turn off certain emails if you don't want ConfEngine to send out emails.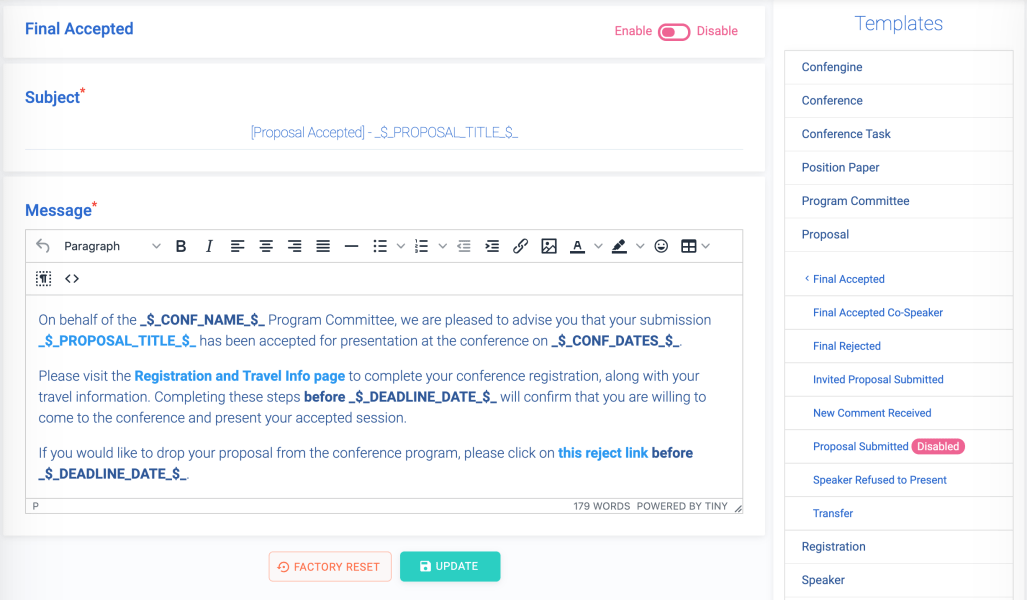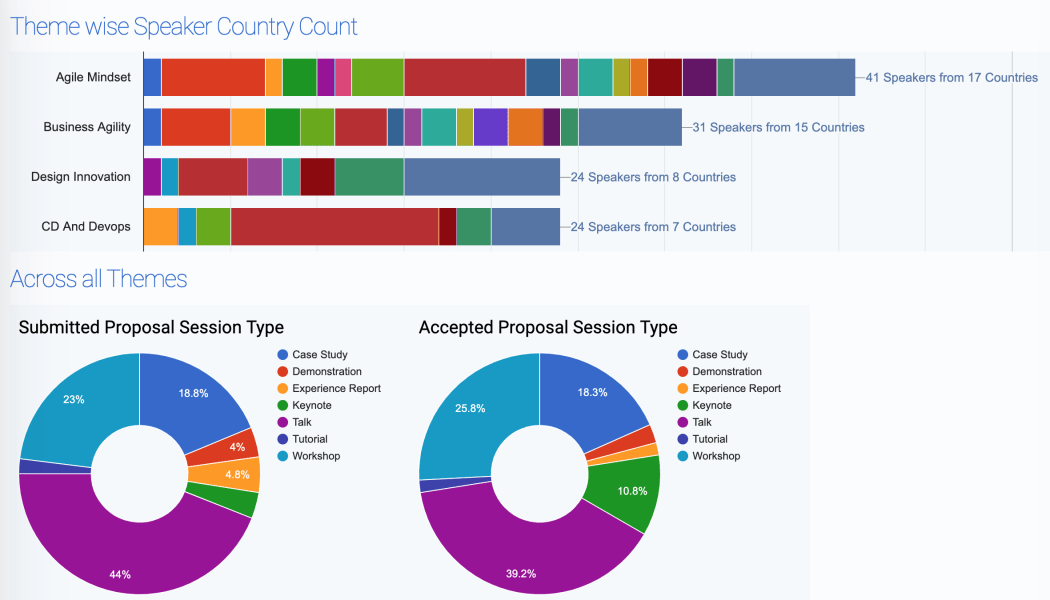 Event Stats
Instantly access important stats about your event. See the distribution of your session by theme, status, types or durations. Also, view important speaker profile stats.
Event Feedback
Define custom survey questions and collect feedback from attendees, sponsors and speakers. View consolidated feedback and drive action items from them.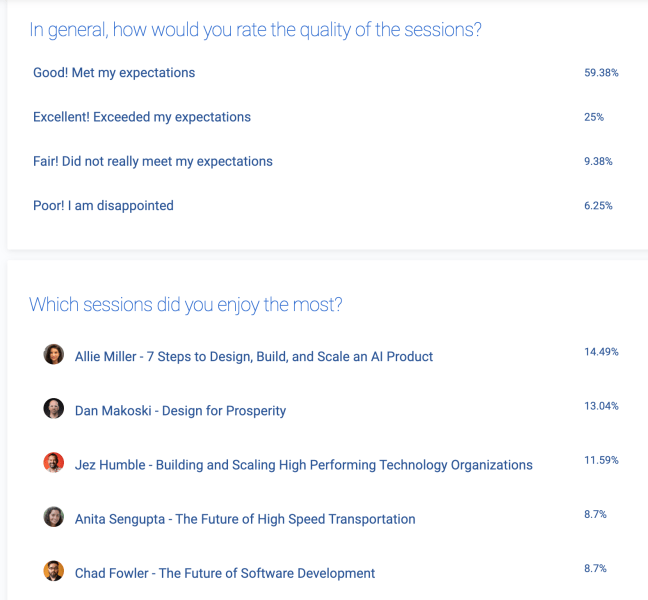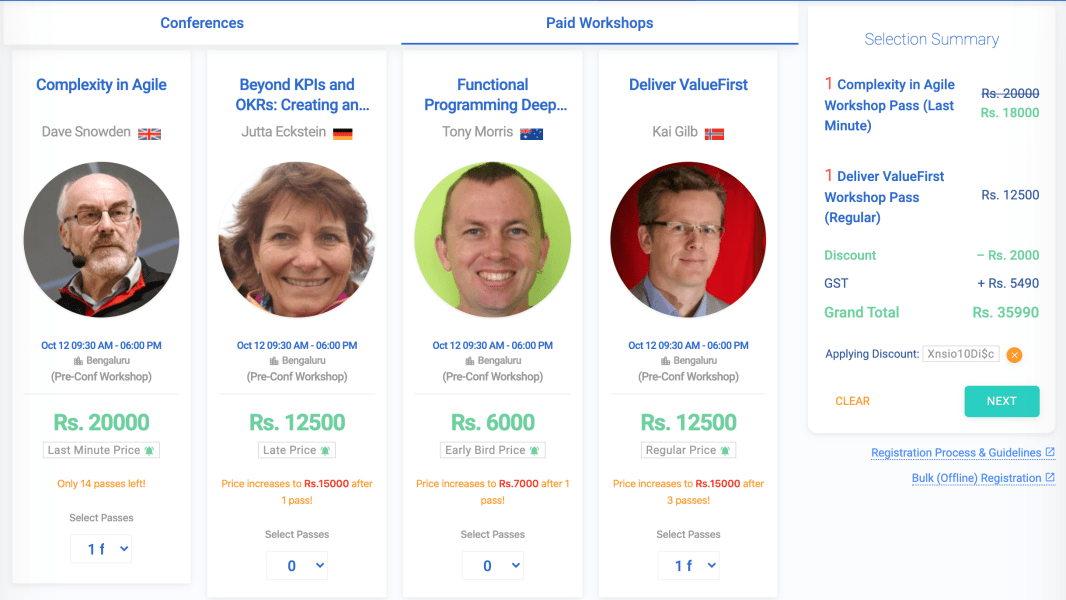 Online Ticket Sales
Specify your registration workflow, customise our predefined data-templates with different pricing slabs and discount codes to start your event registration in minutes using 100% secure online payment.
Eventbrite Integration
With our Eventbrite sync, you just need to update the session, speaker and schedule information in ConfEngine and it will automatically sync all the data with Eventbrite. You don't waste time manually updating the same info in multiple systems.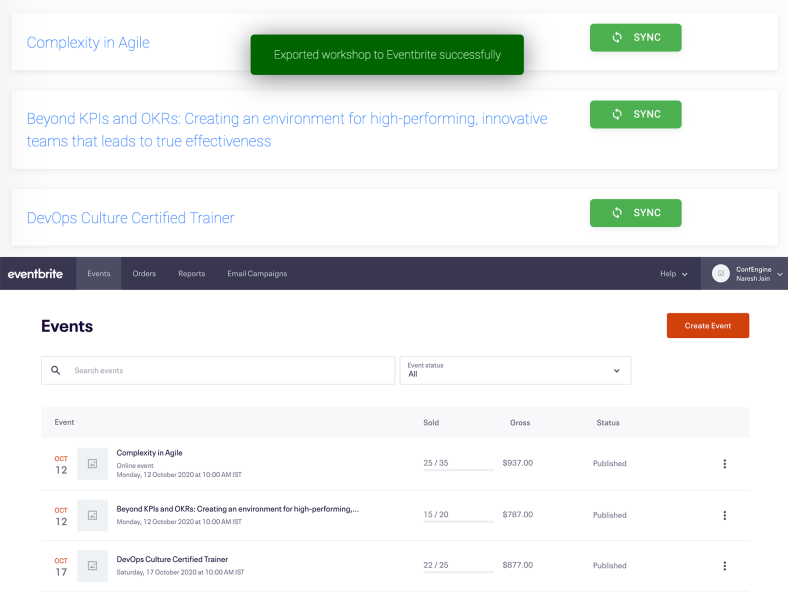 Sponsor Guide
Easily automate the sponsor sign up process by defining different sponsorship levels/packages and their associated benefits, so they can make an informed decision. Clearly call out the deliverables you need from your sponsor.
Sponsor Coordination
Engage your sponsors and keep them up-to-date with the latest event updates. Using our sponsor task management module, sponsors will get automated reminders, so they don't miss any important deadline for the deliverables.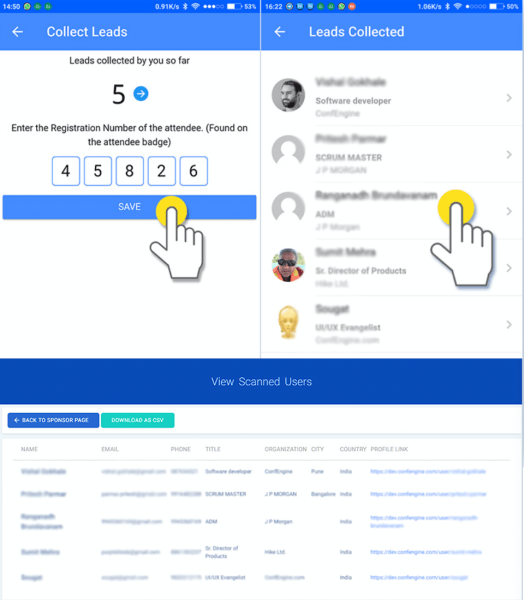 Lead Generation
During the event, sponsors can upload their goodies and attract attendees to interact with them. Sponsors can scan attendee badges and collect attendee information for follow up discussions.
Speaker Profile
A repository of all speaker's profile along with their proposals, slides, videos, etc. in one place. At a glance, check out all the events at which the speaker has already presented.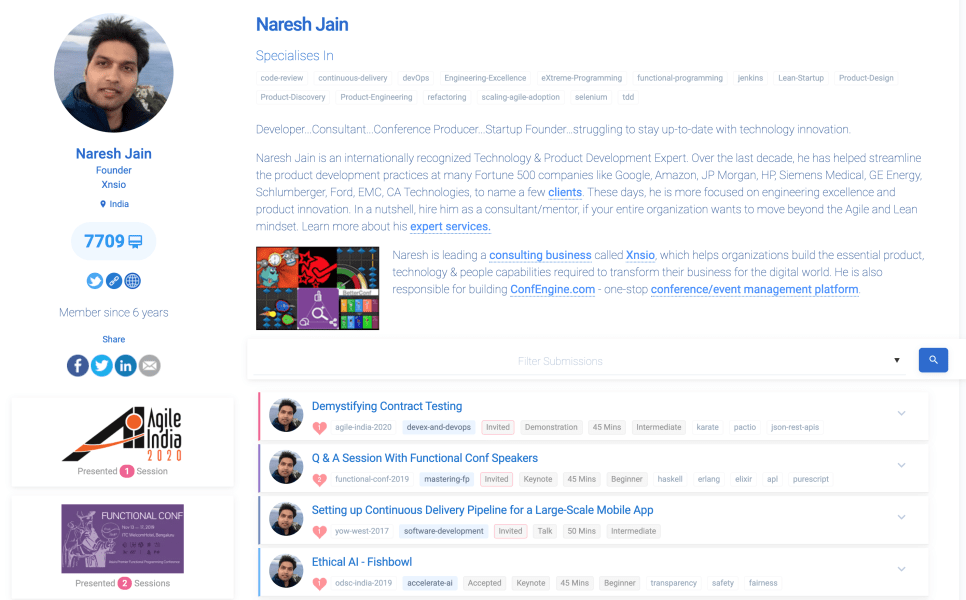 Speaker Compensation
Clearly define the speaker compensation policy upfront, so when speakers are submitting their proposals they are clear what expenses will be covered by the event including hotel nights.
Speaker Coordination
Create one central place to manage all communication with your speakers. Manage their travel details, track their pending items and send automated reminders.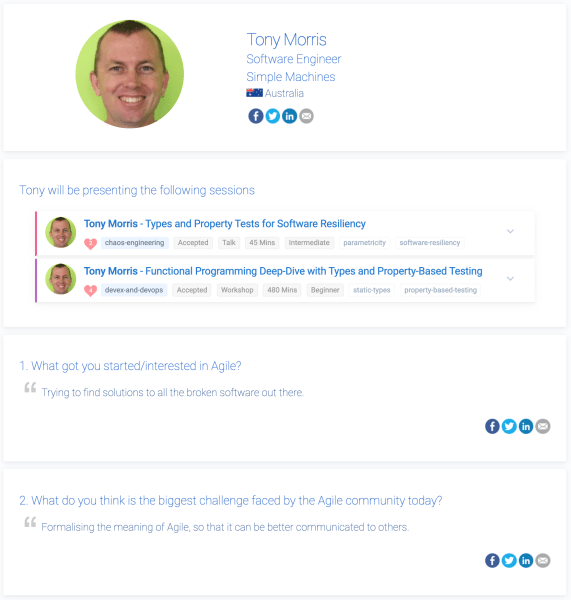 Speaker Interviews
Define customer interview questions for your speakers and send them reminders to answer the same. Market the consolidated speaker's interview page so people can get to know your speakers better.
Speaker Cards
Select a predefined speaker card template and generate custom session cards for each speaker. Use these cards to market your speaker's sessions.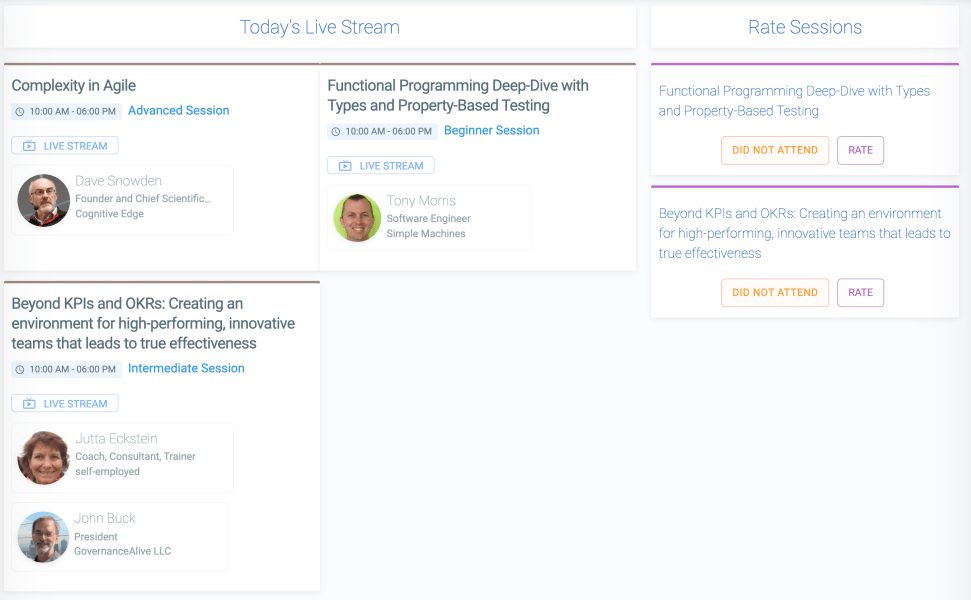 Live Video Streaming
Integrate with any of the live video streaming platforms and allow registered attendees to view upcoming sessions and watch the live stream.
Private ConfEngine Instance
Setup a private instance of ConfEngine and integrate it with your user management system using OAuth2. This ensures your event content is only accessible by your users.
JSON REST APIs
Use our powerful JSON REST APIs to consume your event data in real-time on your website, mobile app or any other application.