Cultivating Collaboration - Simulation of Pair Programming via Tangrams Exercise
It's said that two heads are better than one, in reference to problem solving. We will use Tangram puzzles to simulate this experience, and via structured debriefs of these exercises, discover the powerful behaviors of awesome collaboration, and the negative warning signs of poor collaboration.
We will jump right into simulation exercises, come prepared to have FUN and learn by doing.
No lecture - if you want a lecture… go here: http://lmgtfy.com/?q=+collaboration+pair+programming+lectures
References will lead you to the science behind collaboration - if you wish to know more. Seems like an example right about now might be helpful, wish I had a chicken tangram....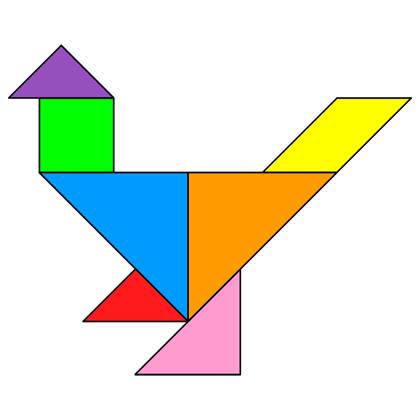 Outline/Structure of the Workshop
We start at the beginning of time.... then we jump really really far into the future, the NOW. And go from there.
Introductions of respectful players... (always a good way to start a game)
Statement of the obvious - we are here to solve some puzzles... not just any random puzzles, but the ones displayed upon the big screen (hopefully there is a really really big screen), You of course will have all your facilities to solve the puzzles, and if you overhear a new technique you will of course be free to still it and try it out for yourself.
Throughout the session I expect we could solve and discuss the techniques of puzzle solving anywhere from 3 to a half dozen puzzles, depending upon chatty Cathy overthere at table number 3.
We may take a few detours into esoteric areas of life if the audience has a mind to talk about such things.... in past, there have been routy exposes upon the benefits of mentoring junior developers during pairing exercises by people that considered themselves to be something other than junior level telephone cord repairmen. While no actual fisticuffs have been seen to breakout and continue for undue periods of fleating time, there may have been some slapping of open palms both over head and behind backs.
We have also discussed rare occurrences of encouraging fun at the work place and the damage to morel that can be generated from such frivolities.
Rest assured that the group will not be set free to just randomly play with blocks of various colors - as we have purposefully limited the block colors and represented them within the slide deck by suitable disguises.
Learning Outcome
Upon successful attention being paid during the full session, including the plenary session, and any out of band video conferencing session pertinent to the topic - I would expect the conscious audience member to retain the joy of a shared experience with their fellow human in which they contributed some small but less than insignificant minuscule partial solution to one of the worlds greatest two-color problem space generalized shape mapping solutions.
Further they may remember that it is not the solution that is achieved that is remembered... but the resolute attempt to continue the endeavor all while making their most esteemed colleague look magnificent in the undertakings. And hence come out smelling victoriously of rose water while wrestling the swine. Perhaps by reflecting upon these techniques, they themselves may become enriched in the telling of stories that have yet been spun...
Target Audience
people wishing to explore collaboration with others via tools such as puzzles...
Slides
Video
Links
References on Creating Collaborative Pairing
Strengthening the Case for Pair-Programming
http://collaboration.csc.ncsu.edu/laurie/Papers/ieeeSoftware.PDF
Pair Programming: What's in it for Me?
http://research.microsoft.com:8082/pubs/75108/esem-begel-2008.pdf
The Costs and Benefits of Pair Programming
http://dsc.ufcg.edu.br/~jacques/cursos/map/recursos/XPSardinia.pdf
Using interviews and controlled experiments, the authors investigated the costs and benefits of pair programming. They found that for a development-time cost of about 15%, pair programming improves design quality, reduces defects, reduces staffing risk, enhances technical skills, improves team communications and is considered more enjoyable at statistically significant levels.
All I really need to know about pair programming I learned in kindergarten
http://cacm.acm.org/magazines/2000/5/7671-all-i-really-need-to-know-about-pair-programming- i-learned-in-kindergarten/abstract
This method has been demonstrated to improve productivity and the quality of software products. Moreover, a recent survey (hereafter referred to as "the pair programming survey") found that programmers were universally more confident in their solutions when programming in pairs as opposed to working alone. Likewise, 96% agreed they enjoy their jobs more when pair
Laurie Williams scholar article list
https://scholar.google.com/citations?user=Cln2viUAAAAJ
Cultivating Collaboration: Don't Be So Defensive! | Jim Tamm | TEDxSantaCruz
https://www.youtube.com/watch?v=vjSTNv4gyMM
schedule Submitted 5 years ago
People who liked this proposal, also liked: