DevOps Culture Certified Trainer
Unique opportunity to get trained by the author of one of the most effective DevOps Culture simulation, prepare for DevOps Culture Certified Trainer exam (DCCT) from CertiProf© and gain competitive advantage in DevOps training marketplace.
First time in India! The latest 2020 version of this popular simulation (ran at 45 conferences in 15 countries).
This train-the-trainer workshop will prepare you for many successful facilitations of DevOps Culture simulation and give you access to the licensed training material (PowerPoint slides, handouts, flipcharts design etc). You will learn to run effective debriefing with your groups and help them connect learning from the simulation with solutions to the real-life challenges in their organization.
The simulation is designed for a broad audience, enabling participants to gain the insights into the "Why" and the "What" of the DevOps before jumping into the "How". Through this powerful role-based simulation, participants experience the benefits of cross-training, learn to eliminate silos, "shift left" on security, adopt systems thinking and practice optimizing the flow of value from business to development and to IT operations.
Become one of the DCCT holders - DevOps change agents who are able to create the DevOps Culture simulation experience, providing participants with additional insights into taking the next steps to embracing DevOps mindset and leading organizational change. Guide your workshop participants through the experiential discovery of the following practices: optimizing flow, amplifying feedback loop and growing safety culture. Deliver real-life examples from medium to large size organizations, latest findings from the State of DevOps report and key ideas from "The Phoenix Project" by Gene Kim.
This unique simulation uses cognitive neuroscience principles, game design theory and elements of "Training from the Back of the Room" framework.
Learn from the game creator, prepare for DCCT exam from CertiProf© (included in your registration) and help make DevOps culture experience accessible to all – business stakeholders, C-level executives, IT management, techies and non-techies alike.
Outline/Structure of the Workshop
Workshop outline:
Part 1 - Experience full 4 hours version of the simulation as a participant
30 min - Connection/Game Intro
10 min - Content: "Why" and "What" of DevOps
20 min - Concrete Practice - Simulation game: Part 1 "Feel the pain of the status quo"
20 min - Conclusion 1 : Debriefing the experience. Why do we need to change?
10 min - Content - Core DevOps Principles: The First Way
The Theory of Constraints
Typical bottlenecks in DevOps transformation
10 min - short break
20 min - Concrete practice - Simulation game: Part 2: First steps towards DevOps
Shift-left on Security - learn about security issues before implementation.
Build T-shaped skills with cross-training.
Dev, Ops and Security are no longer silos.
20 min - Conclusion 2: Debriefing with 1-2-4-All Liberating Structure
10 min – Content - Core DevOps Principles: The Second Way
One-piece flow
CI/CD, deployment pipeline
Typical impediment to Continuous Delivery
Telemetry, Continuous Monitoring
"You build it, you own it" mindset
20 min – Concrete practice: Simulation game: Part 3: Continuous Delivery of value with DevOps
Enable better flow with reduced batch sizes.
Accelerate the feedback loop with simplified deployment.
Enable environment creation on demand.
20 min – Conclusion 3: Debriefing the experience with Liberating Structures (User Experience fishbowl)
10 min – Content: Core DevOps Principles: The Third Way
Chaos Engineering
Safety Culture
Three types of Organizational Cultures (Ron Westrum)
Why Psychological Safety is essential in The Third Way of DevOps
20 min - Concrete practice with Fear in the Workplace + Safety in the Workplace card decks
Practice to recognize symptoms of toxic culture in the workplace
Learn about individual, team and leadership level psychological safety enhancers effective in changing the culture.
20 min Final Debriefing with 25-10 Liberating Structure.
Key takeaways, what will you do differently when you get back to your workplace?
60 min - Lunch
Part 2 - Learn to facilitate the simulation
45 min:
Concept: Base, emergent and hidden dynamic of the simulation; how to create safety.
Concrete practice: Introducing the game via Teach Backs, pair-share.
30 min:
Concept: Room setup and scaling for a different audience size
Concrete practice: Plan your setup, get the feedback from your trainer and learn how each set up will drive new simulation dynamic.
30 min:
Concept: Tips for Debriefing
Concrete practice: Review "Aha! Moments" post-its collected from participants of these simulations from 15 countries. Practice debriefing.
30 min:
Concept: Facilitating Fear in the Workplace game
Concrete practice: Experience collaborative, competitive and a one-on-one coaching version of this game
30 min:
Concept: Your DCCT certification exam
Concrete practice: DCCT Mock-up exam with review
15 min:
Conclusion: Debrief and Q&A
Learning Outcome
After taking this workshop you will be able to
Facilitate experiential learning of DevOps principles and practices including Continuous Integration, Continuous Delivery, "Shifting Security Left" and the Three Ways of DevOps.
Lead the class participants through a discussion of the power of cross-training, T-shaped skills and collaboration between Dev, Ops, Security and Business.
Highlight the connection between DevOps Culture and Psychological Safety.
Develop the capability to effectively prepare and facilitate DevOps Culture Simulation (with Lego and Chocolate game).
Prepare of internationally recognized DevOps Culture Certified Trainer (DCCT), endorsing the knowledge and fundamental application of DevOps Culture via immersive simulation workshop.
Target Audience
Agile /DevOps Coaches, DevSecOps trainers, IT /Ops Managers and Directors
Prerequisites for Attendees
Familiarity with Scrum terminology and IT related work experience
Exposure to foundational principles of DevOps
Keen interest in helping make DevOps topic accessible to techies and non-techies alike
Video
Links
Workshop learning environment: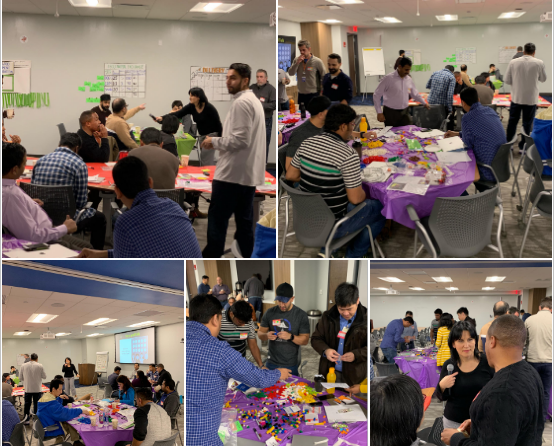 What others say about this workshop:
https://www.agileplayconsulting.com/kudos
schedule Submitted 3 years ago
People who liked this proposal, also liked: