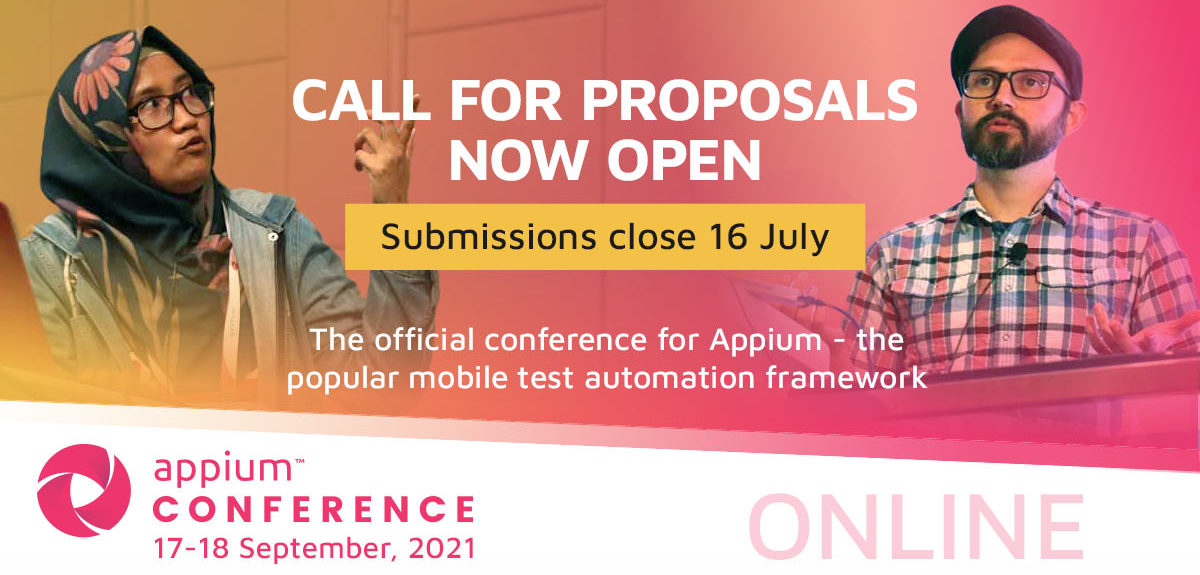 The official Appium Conference is here again!
Join us for two full days packed with inspiring and practical talks featuring the Appium team and the world's top mobile testing and automation experts.
Gain valuable insight to help your own automation strategy, make connections with other Appium users from around the globe and learn from Appium specialists on a variety of topics, including:
Appium 2.0 Improvements
Utilising Application Backdoors for Testing via Appium
Appium for Unity games and apps
Layout (GUI) Automation Testing
P2P Communication Testing
Interacting with native components in real devices
... and more!
Online
Fri, 17th - Sat, 18th Sep 2021
Call for Proposals
CLOSED
Ended on Jul 19 '21 11:59 PM IST
Speaker Compensation
confirmation_numberFree conference pass info_outline
verified_userBragging Rights info_outline
theatersSession Recording info_outline
supervisor_accountSpeaker Shepherding info_outline
Active Members
Most Visited Booths
card_membershipPoints System
You earn 30 bonus points on your first activity on every new conference.
Proposals
You earn 1 point when others like your proposal.
You spend 1 point when you like others' proposal.
You spend 10 points when you propose a session.
You earn 100 points when your proposal is selected.
Pro-Tip
Encourage your Colleagues and Friends to like your proposal to increase its score.
You should consider sharing your proposal on popular Social Networks.
Note: Popularity of Proposals and Speakers is measured by the number of associated points.
Virtual Conference
You earn 5 points when you visit a Booth page for the first time.
You earn 10 points when you ask a question on a Booth page for the first time.
You earn 5 points when you add a session to 'My Schedule' on the Schedule page.
You earn 5 points when you rate a session.
There is an extra 10 points if you provide feedback along with your rating.
You earn 10 points when you fill up a survey.