[WORKSHOP] Explore & live an intercultural encounter and learn some sociology on the way
The Derdians are a rural and peaceful people living in small huts nestled in lush green valleys. Previously renouncing any form of modernity, the Derdians decided this year to open up to the world and welcome new products from around the globe.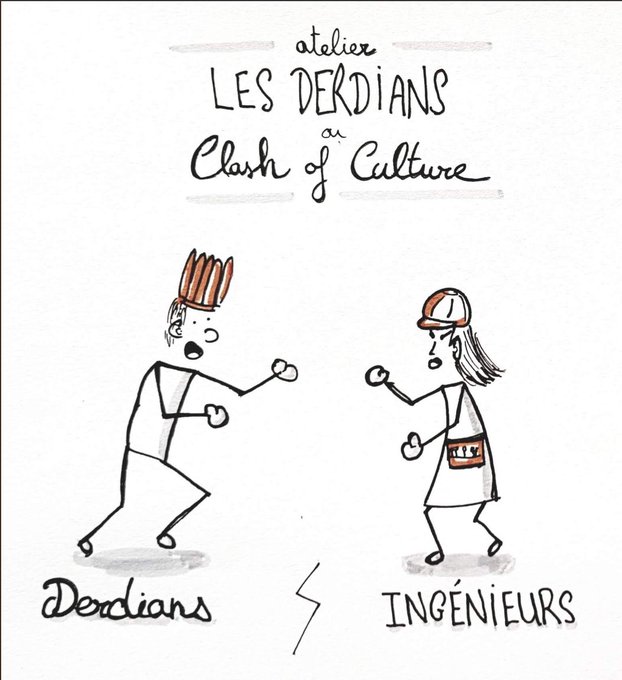 Get ready for a clash of cultures!
"The Derdians" is a well-knowed workshop used by cultural hackers to make teams (or people) acknowledge their cultural differences, and find their way to a better communication/collaboration.
The participants of this workshop experiment (and therefore, discover) the gregarious reflexes that human groups have when they are in contact with a different culture. The participants leave the session with key levers to reduce the clash of cultures and to encourage collaboration of culturally-distant teams.
Facilitated by Romain Vailleux, this workshop begins with a role-playing game (hilarious and dynamic!), and ends with a debrief phase to compile the learning of the workshop as a take away.
Outline/Structure of the Workshop
Set the Scene : The Engineers must transfer a technology to the Derdians

The Derdians and the Engineers prepare themselves to the encounter

The Engineers send an emissary to check the details at the Derdians' place

The Engineers and the Derdians collaborate to build something (an ethnological expedition observes the situation)

Debrief: what do we learn from this situation? (the ethnological expedition make a report of the observations)
(I can't tell you more than that without spoiling the workshop, sorry! :)
Learning Outcome
The participants get out of this workshop with:
More knowledge about themselves when involved into a intercultural encounter

More knowledge about groups reactions and social behaviors when two teams that doesn't share the same culture have to collaborate

Some natural practices that groups implements to build a bridge over cultural gaps and how to encourage them

A faciliation guide to reproduce the workshop in their organizations
==> A deeper understanding of fundamental behaviors of human groups, applicable to worklife situations
Target Audience
Practitioners, change agents, managers
Prerequisites for Attendees
Participants should not have already played this workshop before.
schedule Submitted 3 years ago
People who liked this proposal, also liked:
keyboard_arrow_down

Nish Mahanty

-

Moving from a monolith to a distributed monolith - a cautionary tale on adopting microservices

Nish Mahanty

Director of Engineering

REA Group

schedule 3 years ago

30 Mins

Talk

Intermediate

This talk is a case study of our architectural evolution over the last 2 years.

Our start-up had licensed a customised warehouse management system in order to demonstrate our innovative new business model. The WMS had a traditional 3-tier architecture based on Java and SQL server, and was lightning fast with most of the business logic encapuslated in stored procedures.

Out our start-up we needed to be able to "test and learn" - ie rapidly develop and deploy new features and test them in the market with our customers. Based on the feedback we would identify tweaks to the business model, and fine-tune the functionality that our customers wanted.

We had a launch date 5 months in future, a need to scale rapidly, growing the team from 2 devs to 20 within 8 weeks. And we needed to be able to work in parallel on multiple features. Whilst ensuring that the application was secure, performant, and reliable.

The answer, according to a bunch of experts, was to adopt microservices.

Three years later, we have a suite of secure, scalable, and resilient applications running in AWS. We deploy to Production multiple times a day, and our MTTR is less than 30 minutes.

And we have Services. Some of them are "micro".

But reflecting on what we learned in that period, there are a lot of things that we wished we had done differently.

In this talk I'll walk you through the evolution of our architecture, explain some of the choices, and highlight what we learned, and discuss what we would do differently if faced with the same decisions today.

This case study talks about the last 9 months of our start-up where we went from "no team, and limited functionality" – to launching a successful and thriving business backed by completely custom trading platform and fulfilment engine.

keyboard_arrow_down

Justin Holland

-

Cultivating quiet: The death of the need to always DO (Working Title)

Justin Holland

Senior Business Analyst

Xero

schedule 3 years ago

30 Mins

Interactive

Beginner

I wrote this blog a short while ago: https://medium.com/@justin.holland/cultivating-quiet-38cec9466feb

I feel like there are other continuous improvement addicts, or perennial impostor syndrome sufferers that feel the compulsive need to be more than they are, and do more in order to reach that unattainable perfect state of being...

And I know that a bunch of us find ourselves in a state of constant information processing & overload... thanks to the infinite information we are exposed to every day.

I have also come to believe this can be super unhealthy, and that there is something fundamental that we are losing, thanks to our perpetual busyness.

Some come and have a little chat, and reflect, about the role of not doing... and instead... being... (quietly)

keyboard_arrow_down

Ed O'Shaughnessy / Alexandra Stokes / Jeanette Peterson / Mark Barber / Penelope Barr / Renee Troughton / Robyn Elliott / Tomas Varsavsky

-

The Good, Bad & Ugly: what we've learned in 10 years of scaling agile -- a panel discussion

45 Mins

Panel

Intermediate

Agile is now all grown up and is pretty much the de facto way of working for most teams, but it's proven to be a challenge for adoption at scale. Over the last ten years or so there has been a lot of trial and error figuring out how to break through the cultural barriers, political resistance and technical hurdles that large organisations present. This panel of luminaries (!) brings a wealth of experience helping many different types of organisations transform themselves to be fit for purpose in the 21st century. Come along to hear their stories, some good, some bad and probably a few ugly ones!

PLEASE NOTE: this session will be recorded live by The Weekly Reboot podcast and made available for public consumption. Your attendance will be taken as acceptance to being recorded and publicly broadcast.

keyboard_arrow_down

Mia Horrigan

-

How to survive the Zombie Scrum Apocalypse

Mia Horrigan

Founding Partner Zen Ex Machina - VP of Agile Program Delivery

Zen Ex Machina

schedule 3 years ago

45 Mins

Workshop

Intermediate

A couple of years ago Christiaan Verwijs and Johannes Schartau coined the term 'Zombie-Scrum'. What's it all about?

Well, at first sight Zombie Scrum seems to be normal Scrum. But it lacks a beating heart. The Scrum teams do all the Scrum events but a potential releasable increment is rarely the result of a Sprint. Zombie Scrum teams have a very unambitious definition of what 'done' means, and no drive to extend it. They see themselves as a cog in the wheel, unable and unwilling to change anything and have a real impact: I'm only here to code! Zombie Scrum teams show no response to a failed or successful Sprint and also don't have any intention to improve their situation. Actually nobody cares about this team. The stakeholders have forgotten the existence of this team long time ago.

Zombie Scrum is Scrum, but without the beating heart of working software and its on the rise. This workshop will help you understand how to recognise the symptoms and cuases of Zombie Scrum and what you can do to get started to combat and treat Zombie-Scrum. Knowing what causes Zombie Scrum might help prevent a further outbreak and prevent the apocalypse

keyboard_arrow_down

James Holmes

-

"Agile Software Development actually involves writing software," and other shocking facts.

James Holmes

Principal Engineer

Independent Consultant

schedule 3 years ago

30 Mins

Interactive

Beginner

This presentation will focus on the some principles that have been largely ignored in the way we teach agility to people:

"Working software is the primary measure of progress."

"Continuous attention to technical excellence and good design enhances agility."

"Simplicity--the art of maximizing the amount of work not done--is essential."


We'll cover these by bringing Extreme Programming (XP) up-to-date. We'll also go over software design principles and practices that help, including:

loose coupling and tight cohesion

declarative programming

Expect to see actual code running on an actual computer at some point.

keyboard_arrow_down

David Alia

-

The Dome: A powerful experiment for change when change is hard

45 Mins

Case Study

Intermediate

"In ""Under the Dome"", the novel by Stephen King, the inhabitants of Chester's Mill wake up to a strange barrier, which is similar to a dome, covering the whole city, completely isolating it from the surrounding world.
The dome is impenetrable, only a small amount of air and water can pass through.
Following this puzzling event, the community under the dome has to change, for the best or the worst.

Most successful transformations at scale have a lot in common with this novel, metaphorically speaking of course.
Based on this story, we designed a brand new culture hacking experiment that proved to be successful in many environments.

Change automatically generates resistance from the team to change AND from the ecosystem around (the ""antibodies"").
What if, in order to change the culture of a whole ecosystem, a team was isolated from the outside world, protected by an unbreakable and transparent dome?

This story can be used as a referential, as this is a metaphor helping communicate and relate to the challenges faced in situations of change.
Using it as an alignment between fiction and reality, this story will open the discussion to easily relatable transformation and business agility topics."

keyboard_arrow_down

Neil Killick

-

Slicing heuristics - Techniques for improving value generation, speed to market and delivery predictability

Neil Killick

Agile Coach, Trainer and Consultant

Killick Agile Consulting Services

schedule 3 years ago

60 Mins

Interactive

Advanced

Story (or, more accurately, capability) slicing is such a core and necessary practice for creating agility at team, portfolio and even organisational level. Yet it is not explicitly included in any of the popular methods and frameworks teams use such as XP, Scrum and Kanban.

Slicing heuristics are collaborative, contextual, evolving techniques for creating focus on value-generating activities, leading to delivering value sooner and with more predictability. They incorporate all of the 4 core agile values from the manifesto, and many of the 12 principles, particularly:

continuous improvement (inspect and adapt),
maximising the amount of work not done (simplicity and focus)
face-to-face conversations
continuous delivery of value

Best results are obtained if heuristics are applied for all types of work, by all of the folks collaboratively across the value chain, but they can be used as safe-to-fail experiments by individuals and groups wherever they sit in the product delivery pipeline.

From a practical perspective, they involve:

slicing deliverables at all levels, not only "story"
flow metrics (cycle times and variation)
specific inspect and adapt / continuous improvement activities to improve speed-to-market and predictability
big visible boards (ideally)

Come and learn about this powerful, practical approach to improving agility in your team or organisation from wherever you sit right now.

keyboard_arrow_down

Romain Vailleux

-

Liberating Structures - An overview of powerful workshop formats

Romain Vailleux

Head of Organisational Coaching Practice

OCTO Technology

schedule 3 years ago

90 Mins

Workshop

Intermediate

Less time waste, more USEFUL meetings!

The Liberating microstructures (K. McCandless & H. Lipmanowicz) are a repertory of workshop formats that enable collective intelligence and enhance trust among the participants.

Inclusivity, collective intelligence, collaboration, innovation; these words resonate a lot in today's business world where companies struggle to keep up with growing complexity.
And that's why every change agent, leader or facilitator needs to know about Liberating structures.

This 90-minute workshop will be an interactive overview of the liberating microstructures, making every participant aware of the diversity of Liberating formats available.
After a quick introduction to the subject, the participants will investigate the framework to finish with the key principles behind the liberating structures.

keyboard_arrow_down

David Alia

-

Employee 1st: how to surf the corporate culture so that emerges an organisation outperforming the market

45 Mins

Case Study

Beginner

The best storytelling might be the one that you experienced yourself.

Let me tell you the story of how a 500-employee company completely changed its structure, lead by the employees' impulse.
After 10 years and an average of 20% organic growth every year, it was time to change, for the organisation to keep growing.

Originally, the teams were composed of senior & highly skilled consultants, divided into 3 industry-focused departments.
But over time, consultants started feeling frustrated being stuck in one department, working in 1 industry, on the same types of missions.
The company turnover reached a peak and in 2014 the executive team decided to address the problem.
More than half of the employees gathered to answer the question: how should the organisation be organised, in order to fulfil both business and consultants needs?

This talk will be about how the company organised a bottom-up conversation to invent and to collectively design their very own great place to work.

More than the organisation model itself, the talk will emphasis on the collective design process of the organisation based on a clearly stated problem, on the core principles on which the Tribes lie on and on the benefits that have been observed after 3 years of operation.
Greatly inspired by the book "Tribal Leadership" by David Logan, the employees ended up organising themselves as Tribes of expertise.

keyboard_arrow_down

David Alia

-

"I'll start my transformation next Monday" - Overcoming the fear of pain to successfully transform corporates' mass

30 Mins

Talk

Intermediate

"Like for diets, if methods exist to lose weight significantly and sustainably, they require discipline and courage, which often lack in big organisations that worship silver-bullet cargo-cult frameworks and rituals.

I will use my own experience in dieting (+20kg in 4 years, -25kg in 6 months) and IT (+20 years of experience) to describe the parallel between the two, and how it is a powerful metaphor to understand why transformations tend to drag on and on in big corporate companies.

Participants will (re-)discover this evidence written in golden letters at gym clubs: ""no pain, no gain"", and how the diet metaphor suits particularly well for a digital/agile/culture transformation. Ramping up from individual motivation and discipline to tribal execution and ownership, find what are the key levers for managers to step up to become their company's Personal Trainers, with often the most underrated ingredient: courage"

keyboard_arrow_down

Romain Vailleux

-

Definition of Agile and the Schrödinger's dilemma - Do not open the box.

Romain Vailleux

Head of Organisational Coaching Practice

OCTO Technology

schedule 3 years ago

5 Mins

Lightning Talk

Beginner

As soon as...
You define what 'Agile' is,
You show people what 'Agile' is in your company,
You list what you do to implement 'Agile'...
Everyone has an opinion

And most of the time, that opinion would be... "that's not real 'Agile'''.

Every time you try to go specific with Agile, you lose some of the options available, based on the Values of the Agile Manifesto.
So, what's best?
Stay in an undecided state of 'Agile' and keep a whole and rich 'Agile' concept, or make 'Agile' specific to your context and lose some of the flawlessness of the 'Agile' concept?