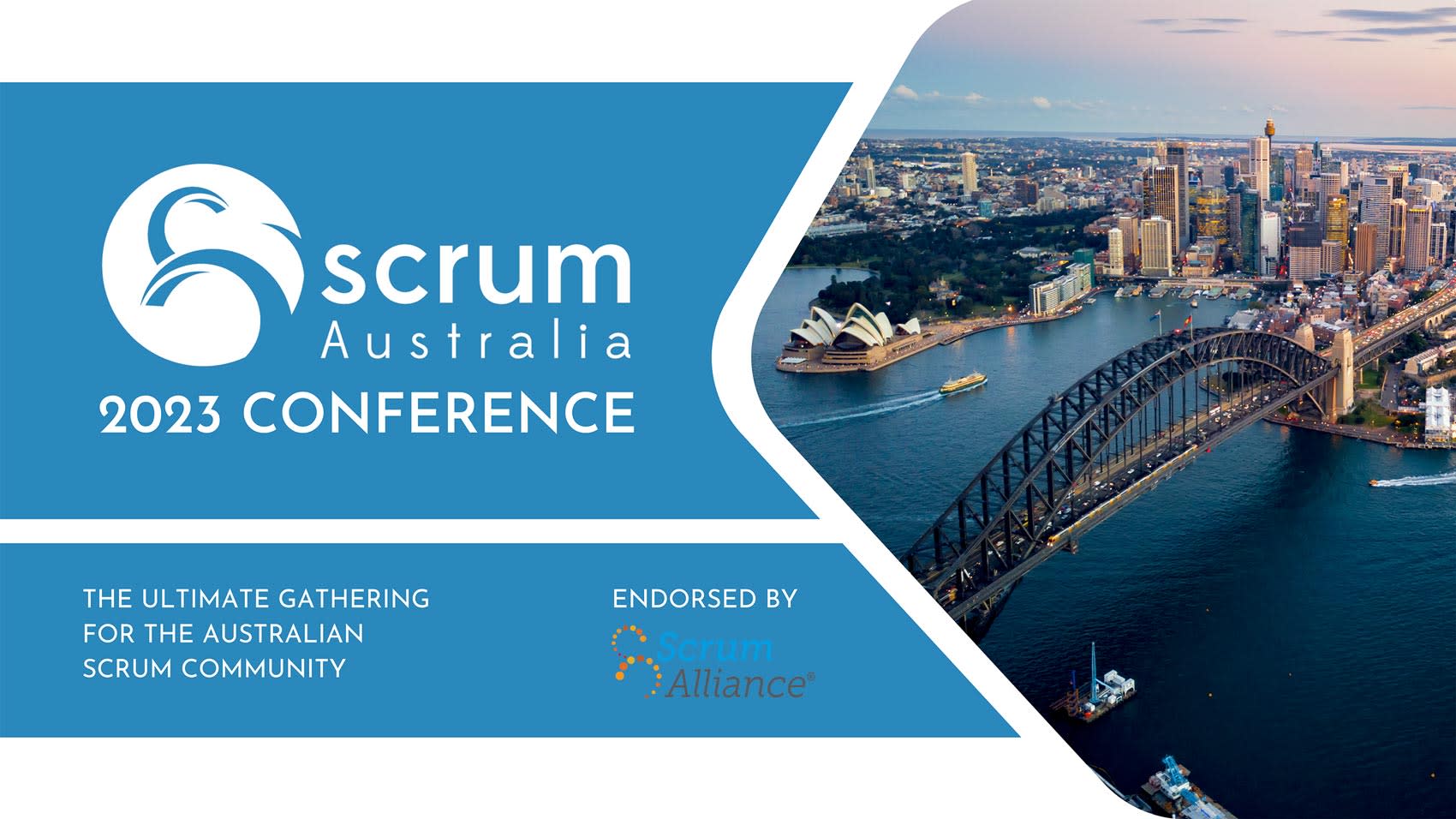 We are Scrum Australia - organisers of conferences and gatherings for the Australian Scrum community. Our purpose is to cultivate a healthy, constantly-learning Scrum-friendly Agile community in Australia and New Zealand that strives for excellence. The first Scrum Australia conference was held in 2013 and has since become a firm fixture on the Australian Agile calendar.
IMPORTANT - PLEASE READ BEFORE SUBMITTING
Reading the following carefully before writing your proposal will assist you to improve the quality of your proposal and maximise the likelihood of it being selected.
Submission close date
Round 2 submissions must be submitted (not in draft) by 5pm AEDT on Tuesday the 15th of November.
Update: A temporary extension has been granted for in-progress submissions until 5pm AEDT on Friday the 18th of November.
Submissions are public
Upon selecting "SUBMIT PROPOSAL" at the end of the submission form, please be aware that your proposal will be publicly visible to all ConfEngine users. Also expect a tweet from @ConfEngine advertising this. This allows the community to upvote your submission.
If you have not finished your submission and do not wish it to be visible publicly yet, please select "SAVE AS DRAFT" and return to submit it before the close date.
About Scrum Australia
If you are not familiar with previous Scrum Australia events and what we envisage for the 2023 event, please review the Scrum Australia website for this.
The Programme Committee
Your proposal will be reviewed by a volunteer committee. This group includes some of the most experienced Scrum and agile guides in Australia and New Zealand. Many have served on programme committees for past conferences in various parts of the world.
Why Submit a Proposal?
Speaking at conferences is a great way to build your career in ways that you may not foresee. For example, for one of our organisers (Rowan) speaking at a Scrum Gathering in 2007 led to being hired as an Agile Coach with Ken Schwaber and then Mike Cohn's European partner in London!
Scrum Australia enjoys credibility with seasoned agile practitioners thanks to its highly interactive nature and the quality of its programme. You have the opportunity to be on the same programme as highly respected international keynote speakers and authors.
As a Regional Scrum Gathering, a speaking experience on your résumé will be recognised by agile practitioners globally. Scrum Australia could be your stepping stone to speaking at another Regional Scrum Gathering (e.g. in Asia) or at a Global Scrum Gathering in North America or Europe.
Breadth of Topics Welcome
We welcome topics that are far broader than Scrum and application context beyond software development (see the tracks below). The material presented should however be compatible with a Scrum based agile environment and we encourage an explicit description (even for 1 minute) of how participants could apply what they are learning to a Scrum based environment. For example, in a talk about the Kanban method you could spend a minute or two explaining how Kanban could be used within Scrum Sprints or be used as a portfolio wrapper for Scrum.
Learning Over Earning
Scrum Australia is about connection and learning. In selecting a topic and writing a proposal, we encourage you to think about it in terms of what participants will learn during the session and how you can inspire them to learn more afterwards.
You can expect that proposals focused on learning and inspiring will be more successful than those that are directly promotional of a paid product or service that you offer. Description of your commercial products or services are to be kept to less than 1 min at the start or end of your session. 
Alignment with Prior Art
You are strongly encouraged to either:
align terminology and use of concepts with authoritative definitions, or
explicitly declare when varying from the authoritative definition both in your proposal and session content.
For example, either use the word "events" rather than "ceremonies" in reference to the Scrum events or explain that the term "ceremonies" is used in your organisation to mean the Scrum events with the exception of Sprint.
If you are using a term that has a somewhat different meaning from the term in the framework that the adoption is based on then you are strongly encouraged to explain the differents. For example, "our showcase is different from a Scrum Sprint Review in that it includes inspection but no adaptation during the meeting. Also, we don't adhere to the Scrum rule that only Done Increments are inspected."
Questions to Consider
Consideration of your answers to the following questions can be expected to improve the quality of your proposal. We recommend addressing most or all of these questions in your proposal.
What?
What is the essence of what you are proposing to share and explore with participants?
What is your unique or compelling angle on it that you expect will resonate with an audience?
Who?
What roles do your audience play?
Are they relatively new to agile, intermediate or advanced practitioners? 
Are they seeking to explore new opportunities or techniques or go deeper and be more fluent with an existing role or something that they are already doing in a basic way?
How?
How are you going to structure the session?
What topics or activities are you going to explore?
How much time are you planning to spend on these? Don't forget to leave some slack for everyone to get settled in at the start and to finish up before the allotted time to allow participants to find their next session. For interactive workshops, how much switching time have you built into your schedule? 
Even if it is a presentation, how can you incorporate a little interaction from participants (e.g. an interactive poll or a pair conversation)?
Why?
Why are you passionate about this topic? We would like to hear about what drew you to this topic and what about it excites you in a way that will bring authentic energy to your session. 
Also, why are you investing in preparing for and sharing this session?
What do you aim to achieve as a session leader?
Options
Session Formats
Experience report with Q&A 40 mins
Interactive presentation 40 mins
Interactive workshop 40 or 80 mins
Interactive presentation may be primarily a talk with slides or live drawn material. Our hope is that you will include at least a small amount of interaction e.g. anonymous poll, pair discussion.
Open Space sessions do not require submission through this process. Please bring your topics to the Open Space opening circle at the event.
For scheduling purposes, start times will be separated by 45 mins or 90 mins for the longer interactive workshops.
Audience Level
You can expect there to be a mix of experience levels at Scrum Australia from people starting out with Scrum and agile to experienced practitioners with many years of experience. 
We encourage you to select the most advanced level that you believe would comfortably understand the material in your session from the following options. The assumption is that your session will be accessible to people with less experience than the level advertised. 
Beginner (< 2 years agile experience)
Intermediate (2 - 5 years)
Advanced (> 5 years)
Tracks
There are four tracks to select from.
Culture and Leadership
Creating an environment that agile can thrive in.
Examples of topic areas:
understanding and developing your culture,
cultivating leadership behaviours,
inspiring and enabling others,
approaches structure and scaling,
developing as a leader or practitioner.
Practices
Tools and techniques for effective agile working.
Examples of topic areas:
collaboration techniques,
distributed/hybrid working techniques,
development inc. technical practices.
Agile Everywhere
Agile in any context.
Examples of topic areas:
business agility e.g. HR, finance or procurement,
agile in varied types of organisation,
personal agility,
humanistic and progressive organisations.
Product
Effectively creating value that matters.
Examples of topic areas:
agile product management / product owner,
from project to product led organisations,
human centred design,
understanding and measuring value.
Set Conference to Draft Mode?
Sure you wish to change the state of the conference to draft?