Tech-Startup Founder
ConfEngine.com
India
Naresh Jain is an internationally recognized Technology & Product Development Expert. Over the last decade, he has helped streamline the product development practices at many Fortune 500 companies like Google, Amazon, HP, Siemens Medical, GE Energy, Schlumberger, EMC, CA Technologies, to name a few clients. These days, he is more focused on engineering excellence and product innovation. In a nutshell, hire him as a consultant/mentor, if your entire organization wants to move beyond the Agile and Lean mindset. Learn more about our expert services.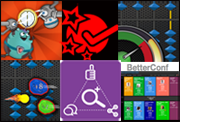 As an independent consultant, Naresh worked with many fortune 500 software organizations and startups to deliver mission critical enterprise applications. Having played various roles of Founder, Agile Coach, Quality Evangelist, Technical Lead, Product Owner, Iteration Manager, Scrum Master, Developer, QA, Recruiter, Build Master, Mentor & Trainer, he is well equipped to help your entire organization to rapidly adapt Agile and Lean methods.

Naresh founded the Agile Software community of India, a registered non-profit society to evangelize Agile, Lean and other Light-weight Software Development methods in India. Naresh is responsible for conceptualizing, creating and organizing 50+ Software conferences worldwide.